09-27-2014
Herborium Group's Unique Acne Treatment Featured by the largest PR Beauty Network Event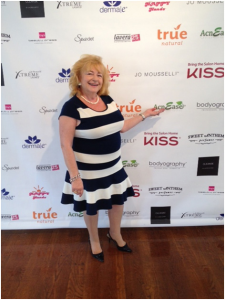 Fort Lee, N.J. July 24, 2014 Herborium® Group, Inc. (OTC Pink: HBRM), www.Herborium.com, a Botanical Therapeutics® Company and the provider of unique all botanical medicinal products (Botanical Therapeutics®) announced today that it unique all botanical treatment for acne AcnEase® has been featured at the BeautyPress Spotlight Event on September 24th in New York City, as one of only 10 innovative products selected for exhibition.
AcnEase® that has shown unprecedented 120% growth in sales during 2013 and has surpassed the entire 2013 sales in just 7 months of 2014 has been growing in popularity as a safe and effective, all botanical acne remedy in both wellness and beauty sectors.
BeautyPress is the No 1 International PR Network for the beauty industry and covers 95% of the beauty media landscape is a part of the International Webportalis Network since 2000. BeautyPress that has the presence in eight world's major beauty and cosmetic markets and 2500 users at media and publishing houses all over the word has been partnered in the USA with Oprah Magazine and Network, Vogue , Allure, People Magazine, Essence to name just few. It is also used regularly by New York Times and major TV Networks such as CBS and ABS for information on and coverage of innovative products and newest development in the beauty industry
AcnEase presence at the Event represents both the attest to the is AcnEase strong brand recognition and an enormous future brand and sales growth and opportunities assisted by the professional media coverage and placing AcnEase in the center of two multibillion dollar sectors: wellness and beauty.
We are extremely happy with the results of the BeautyPress Spotlight event, commented Dr. Agnes P. Olszewski, CEO of Herborium Group. We had an opportunity to present our unique acne botanical therapeutic® to powerful beauty media and as a bonus to some distributors looking for new and innovative products and we are truly excited by their interest, and growth opportunities that this interest can represent for AcnEase brand and Herborium" added Dr. Olszewski
Herborium remains very optimistic about growing its business, sales and product awareness due to the steady growth of the AcnEase® brand as well as its three new products that have already generated interest and will enter the market this year. The Company continues its efforts to decrease costs and to retire debt, thus increasing the Company's ability to rise outside funds at a reasonable cost.
There is a rising interest in Botanical Therapeutics® among consumers as well as the financial, medical and now - beauty communities that serve as a solid foundation for the company's promising future.
About Herborium Group, Inc.
Herborium Group, Inc., a botanical therapeutics® company that develops, license and markets proprietary, botanical based medicinal products to consumers and healthcare professionals. The Company business model focuses on emerging market opportunities spearheaded by the growth of a new market sector located between high-cost, high-risk, ethical pharmaceuticals and commoditized classic nutraceuticals (supplements). The Company uses clinical validation and a proactive regulatory strategy based on the FDA Guidance for Industry: Botanical Drug Products (FDA Guidance 2004) to establish and maintain a differential advantage. Herborium has secured a pipeline of botanical ingredients based products in the areas of dermatological needs, wellness and energy, prostate health, women's health and selected sexual disorders resulting from cardiovascular disease, use of anti-depressants, diabetes, surgical procedures, and other problems. Herborium Group sells its products in the United States, the United Kingdom, and continental Europe through a network of distributors, specialty retailers, and e-commerce. For more information, please visit www.herborium.com, and www.acnease.com.
Safe Harbor Statement: This release contains forward-looking statements with respect to the results of operations and business of Sunrise Consulting Group, Inc., which involves risks and uncertainties. The Company's actual future results could materially differ from those discussed. The Company intends that such statements about the Company's future expectations, including future revenues and earnings, and all other forward looking statements be subject to the "Safe Harbors" provision of the Private Securities Litigation Reform Act of 1995.
Contact Information:
Herborium Group, Inc.
Email:InvestorsRelations@Herborium.com